Jack Bush Paintings
A Catalogue Raisonné
The definitive record of paintings produced by the Canadian artist Jack Bush (1909 – 1977) is now available for pre-order! Coming spring/summer 2024, purchase your four-volume set at pre-publication prices today until December 20, 2023. Visit jackbushcatalogue.com to explore purchase options.

This highly anticipated catalogue raisonné thoroughly documents more than 1,800 paintings, and includes essays by Sarah Stanners, Michael Fried, Karen Wilkin, and Clement Greenberg. With 1,100 pages of colour images that trace the artist's painted oeuvre, from landscapes to abstraction, Jack Bush Paintings: A Catalogue Raisonné will serve to inspire and inform readers for years to come.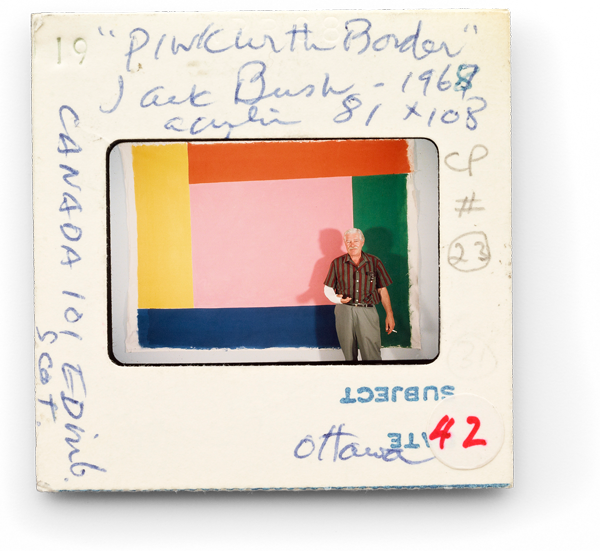 Special Announcements
Meet Dr. Stanners at Art Toronto this year: October 26-29, 2023, at the Metro Toronto Convention Centre – check out the Art Toronto website for more information on visiting the fair. Pre-production materials and demo copies of the four-volume catalogue raisonné will be available to explore. Special program announcements are coming soon.
Submissions
As we are now entering the print production phase, the last call for submissions to the forthcoming first edition of the catalogue raisonné has passed. Submissions will continue to be reviewed for inclusion in any future editions or addenda in print or online. Please contact Dr. Sarah Stanners with inquiries.
Download the catalogue raisonné submission form by clicking here.
Contact
Sarah Stanners, Ph.D.
Director, Jack Bush Catalogue Raisonné
Adjunct Professor
Department of Art History, University of Toronto
Email: stanners@jackbush.org
The artist's youngest son Terry Bush represents the Estate of Jack Bush. For information regarding the Estate holdings and other matters outside of the interests of the catalogue raisonné, please email Terry Bush at bushheritage@hotmail.com.
Donations
The Jack Bush Catalogue Raisonné is a not-for-profit scholarly project, which is currently accepting donations via its institutional affiliate, the University of Toronto, Department of Art. Download a pledge form by clicking here. Charitable tax receipts for both Canadian and US citizens can be issued by the University of Toronto.